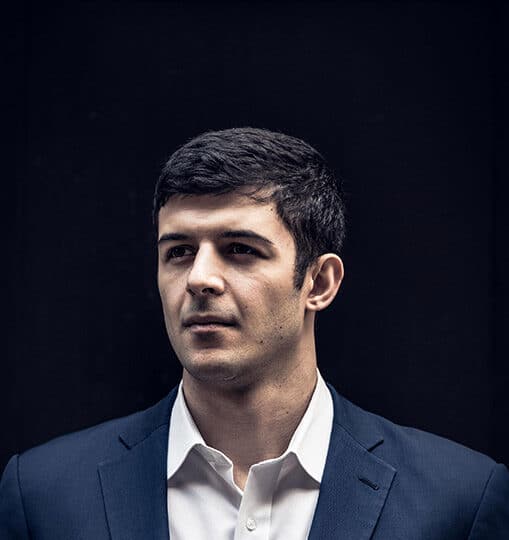 Your Success is My Success
Your success is my number one priority. I'm obsessed with it. But don't take my word for it – take it from our student reviews and success stories.
Piano For Producers Reviews
Music Producer "Sauniks", Songwriter and Remixer with over millions of global streams
"If you are a producer considering taking this course, I 110% recommend you take this course. The skills you gain and knowledge is absolutely priceless. Your songs will move up in a level like you never would have expected before."
Grammy-Winning Producer/Engineer for Kanye West, Skrillex, A$AP Rocky and others
"I have nothing but the highest regard for Niko and his course. This course is actually the real deal and it will show you exactly what you need to do to fast track your work as a producer to get results you need with the piano."
Grammy-Nominated Producer with official remixes with Beyonce, Lady Gaga, Katy Perry and Ellie Goulding
"Niko's class is amazing. If you are interested in some site reading, arrangement, voicing, chord structure and all of that I highly recommend you take this class. Niko is an amazing teacher, very skilled and a great piano player"
"This program has been huge for my growth. Knowing how to play the piano is crucial because we have to speak the same language as my songwriters and bounce around ideas. Niko's program has made me feel so much more confident in myself and my abilities. The lesson are super inspiring and NIko is a great teacher."
Harpist who has performed live at major league baseball games
"I started going through Niko's program and the way he was able to explain things and simplify them was so eye-opening to me. From the time I started in the program to now, which would be a few months, I have improved more as a musician than I had in the entire year leading up to that time.
Vocal Producer with over 100 million global streams
"Taking Niko's piano class, he has helped me hone in on my piano skills and create interesting chords and melodies using inverted chords and arpeggiated chords. I highly recommend his program. As a singer going to work with a producer or working with my own clients and vocal producers, knowing the piano is super important because we develop and create melodies on the piano. Taking his class has been an invaluable experience for me."
Music Producer & Songwriter
"Niko has been playing piano for over 20 years, this guy knows his stuff really well. He builds you up from the ground up. Niko is a very cool person to have influencing your life, even if you are just watching his course material, his energy level, success mentality, mindset to approach things, has been very useful in my own life.
Founder of Big Talk and Musician 
"Niko as a teacher is amazing. It has been so helpful going week by week and ask clarifying questions over video chats. He is literally able to answer any question I have and is a master of the keys. In going through this course, I've been able to take popular songs I love, re-arrange them to my own style and liking and that has been really cool. I have also started dabbling in songwriting and taking chord and re-arranging them.
Music Producer "ILIXIR" and college student at Dartmouth College
"There is nothing out there quite like this course. It is like having a piano teacher and Niko is way more than a piano teacher, he is a legit producer. If you want the best, you have to learn from the best and that is what this course is. Greatest course on the planet."
Dance Music Producer, Songwriter, Remixer and Instructor 
"Niko as an instructor is top notch. Niko's course really helped me up my piano game really quickly. For someone looking to take their music to the next level, I really feel like there is nothing better that you can do for your music, your composition, your songwriting, your producing and your arrangement.
"I learned a lot of unique strategies to develop chord progressions and on the production side, have my piano playing more professional. Overall the one thing Niko did was help me become more creative. He started showing my tactics and patterns, stuff I was never aware of it opened my mind."
Music Producer, Songwriter
"My most vivid memory from this course that changed my life, I was sitting at my desk reading, and a progression pops in my head, and the first time it ever happened. I got to my piano and built the progression and played for 12-13 minutes. I have the confidence to sit down at a piano and utilize what Niko taught to shortcut into songwriting. I have videos of me cracking up of things Niko taught, you can't fathom you are even learning this stuff.
Dance Music Producer and DJ 
"I have been incredibly thrilled with the course. Niko is undoubtebly an incredibly talented pianist, but that doesn't mean you are teacher. Niko is both. I have come a really long way since taking the course."
"Two big goals as producers is to sound more human and have our own sound. Learning the piano helps a lot with reaching this goal the fastest, ever since starting the Masterclass, I have been able to improve on this while also making it easier to finish music faster. You will not only get better at piano, but get better at producing.
"The way Niko explain things, it's crazy. I never knew someone could teach this way and Niko is the "Piano Man" he knows how to teach like no one can. This program is amazing and you won't regret it. When he has group calls, he explains everything. I really recommend this program, you will love it. 
Guitarist and Music Instructor
"Niko's songwriting is just beautiful and he is able to push out songs so quickly. They are produced very professionally. If you were take a song produced by Niko or a professional sound engineer that'd you pay thousands of dollars, I don't hear a difference. The fact that he shows you everything he does, it's really good."
"The concepts and the way the class is broken down is straightforward. I started from zero and am to a point now that I can pick a song, get the notes, read the notes, play it and put it together."
Music Producer, Guitarist and Instructor
"It has been such an enjoyable experience learning from Niko. He really managed to connect the dots for me. In addition to that, Niko has a great energy he brings to the table as a teacher. As a music producer, I feel much clearer, efficient and my workflow is greatly improved. 
"The material is presented in such a simple yet clear format so you can follow along easily and in just a few weeks one can play different kinds of songs on the piano. 
Music Producer and Co-Owner of Dark Star Audio
"I gotta say that I think the main reason why PianoForProducers is so beneficial is Niko's driving vision of creating hybrid producers. You can learn the languge of music having fun developing your ear. I encourage all of you to get started."
"I am so glad that I found Niko as a teacher because I think that a lot of the techniques he has taught has helped me as a producer. I have learned a lot of methods that would have probably taken me years to figure out."
Music Producer and Aritst
"The amount of information lasts a lifetime. The segment "Make Music Your Life" is worth the whole thing, 20x over. If you are watching me right now, go for it. Gold mines. Inside the mind. Niko is amazing, I have no words, I am amazed.  
Artist Manager with SixTen Management
"It is a requirement to learn piano as a producer. You are doing yourself a disservice in the creative process by not knowing piano. Niko is the one who can teach you and should because he is qualified and such a great guy to help you out. 
"Niko explains everything very clearly. He started from the basics to more difficult things. It was definetely worth it and I can recommend it to everyone"
Music Producer and Songwriter
"Through the lessons Niko shared with me, as a result I learned how to make my own amazing melody, to make my tracks more unique and to increase my creavitity in what I love. Thank you."
"I want to give a huge shout out to Niko. This man is not only talented but is also kind and passionate about what he does. I am glad that I took this class. God bless you."
"I am now a songwriting machine and make catchy music that people love to listen to!"